Tongyeong, located on the south coast of South Korea is in a priveledged position when it comes to Sunrise and Sunset. At the bottom of a Peninsula facing South, it means that there are lots of spots from where you can watch the Sunrise and the Sunset. Below, we will reveal our 5 best Sunrise and Sunset Spots in Tongyeong.
---
5 Best Sunrise and Sunset Spots in Tongyeong
1. Bukporu Pavilion at Sunrise (북포루)
The 1st Best Sunrise and Sunset spot in Tongyeong is Bukporu Pavilion. Bukporu Pavilion is located at the top of a hill and provides amazing views of both Tongyeong city and the surrounding islands and scenery. Bukporu used to be one of the signal stations around Tongyeong, like Seoporu and Dongporu and has quite a bit of historical significance attached to it.
It is the perfect spot for catching the sunrise as it faces mostly East and South. Getting here can be a bit of a challenge though and you do need to hike for a bit in the early morning before the sun rises for the best views.
However, even if you go here just after the sun rises, you can still get a great sunrise shot.
There are numerous paths up the hill that Bukporu sits on, however, the easiest one to access with the fastest way up the hill is to enter the road beside Munhwa Village Apartments. From here, follow the road up between the buildings and then you will reach the trail up to Bukporu. The trail from here is quite easy to follow, and isn't extremely steep or difficult, but it's also could be a little bit challenging for those who aren't used to hiking.
In total, it shouldn't take more than 20-30 minutes to get to Bukporu from Munhwa Village area, and if you want to walk quickly, you can get there in under 15 minutes. If you are driving there, I recommend to park at the Seopirang Park Parking lot and walk from there. The maps are included down below of where the parking lot is and the entrance to Bukporu.
Parking Lot Map: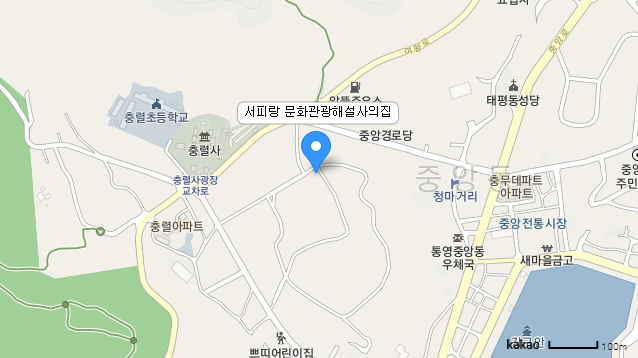 Start of Trail Map: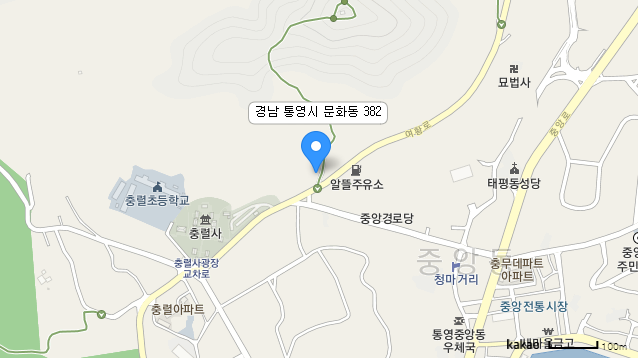 ---
2. Pyeongnim Noeul Viewing Deck (평림노을전망대) at Sunset
The 2nd best sunrise and sunset spot in Tongyeong is Pyeongnim Noeul Viweing Deck. This location is a relatively new hot sunset spot for sunset and rightfully so. This location is located near Pyeongnim Port. The whole drive around Pyeongnim is worthwhile as the coastal road looks over beautiful ocean scenery, but especially at the Noeul Viewing Deck. From the deck, you can see the many oyster farms that dot the landscape and some of the outlying islands around Tongyeong. A perfect place to enjoy the Hallyeohaesang National Park.
This spot faces west and northwest and is perfect for watching the beautiful ocean sunset. The facilities here are quite nice as well as they've build a sturdy wooden deck and there are even toilets nearby. There are also benches to sit while you wait for the sunset.
Also, compared to Dara Park which is another famous sunset spot not listed in this article, this location isn't as widely known so there are less people that go here whereas Dara Park can get quite crowded.
The downside to this location, is that it is recommended to drive or take a taxi here as public transportation isn't too frequent in this area. To drive here from downtown Tongyeong though should only take around 10 to 15 minutes. Do note that for parking there isn't a parking lot. There is a fairly wide shoulder on the road though, where you can park safely enough. Below is the map for the viewing deck.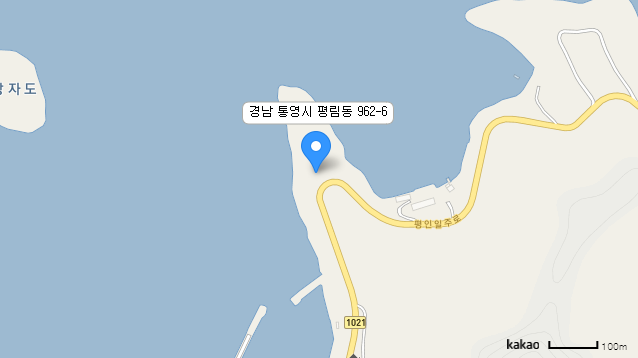 ---
3. Yi Sun Shin Park (이순신공원) at Sunrise
The third best sunrise and sunset spot in Tongyeong is Yi Sun Shin Park. Yi Sun Shin Park is a coastal park that is dedicated to the Revered Admiral Yi Sun Shin.
The location of the park has historical significance as it was location of some battles during the Japanese Invasion of 1952. There is a centerpiece statue of Admiral Yi Sun Shin overlooking the ocean in the park.
This park feels quite secluded even though it is really close to the downtown and is a great place to just go for a walk at any time of the day. Entrance to the park is free and there are facilities like bathrooms, some food trucks and nice boardwalks to enjoy the park fully. Below is the map for where the park is located. There is a parking lot where you can easily park or you can get here easily by walking from downtown or taking public transport.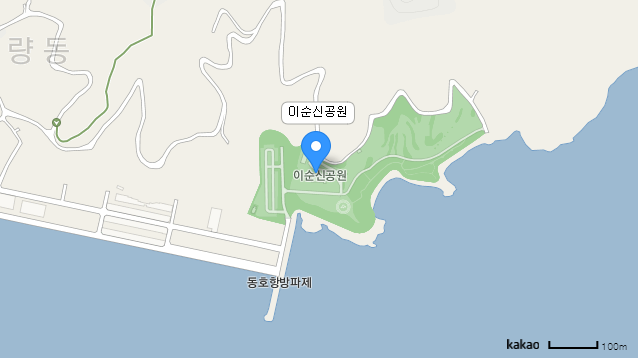 ---
4. Tongyeong Eco Forest (통영 생태숲) at Sunrise
The 4th best sunrise and sunset spot in Tongyeong is Tongyeong Eco Forest. This is a beautiful park located on the edge of the downtown and is great during any time of the day.
In fact, I haven't been here for sunrise, but after I visited during the day time, I knew that it would be a great spot for sunrise. It faces the downtown and has numerous pavilions that overlook the city and face east for sunrise.
It's quite convenient as well, because to reach those pavilions it's only about a 15 minute walk which means you don't have to wake up super early to get there for sunrise. There is also good facilities here like bathrooms, parking lot and paths. So while none of these pictures I've included is from sunrise, I hope you can see how it would be a good sunrise location.
This spot is also good if you want somewhere to go for night photos as you could get some good night shots of the city from here as well. Below is the map for your reference of this great location.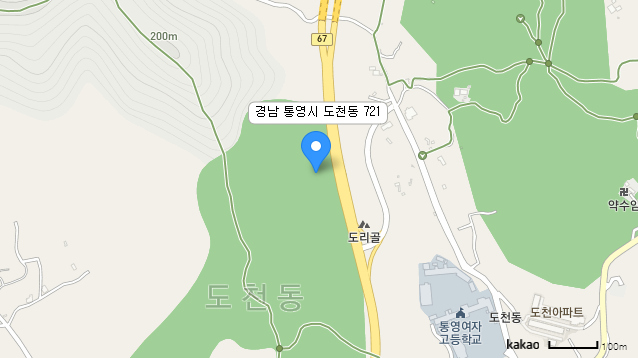 ---
5. Tongyeong Bridge (통영대교) at Sunset
The 5th and final best sunrise and sunset spot in Tongyeong is Tongyeong Bridge. This one is more technically a place to go right after sunset and just before dark as it's a great location for blue hour shots.
More specifically too, the best spot to take pictures of Tongyeong bridge is to go to Chungmu Bridge and take shots from there. The view of Tongyeong Bridge and the Canal is perfect just after sunset.
There is a small sidewalk on the Chungmu bridge so you can safely set up a tripod there, just be sure to leave enough room for other pedestrians to be able to get by.
From there you can get some great lighttrail shots of the cars and boats below and also enjoy the beautiful sky post sunset. To get here, you can park at the free parking lot at the Tongyeong Marine Tourism Park and walk along the canal towards Chungmu Bridge. There is a map of both the parking lot and the bridge photo spot below:
Parking lot: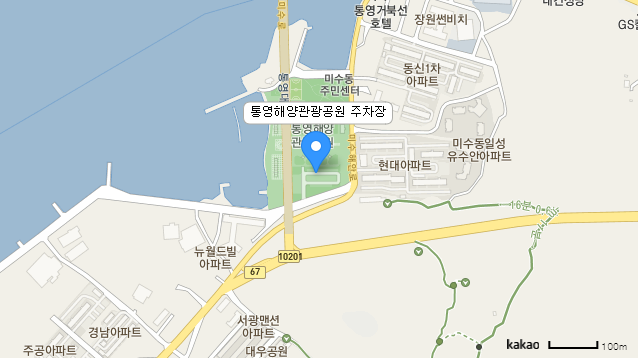 Chungmu Bridge Photo Location: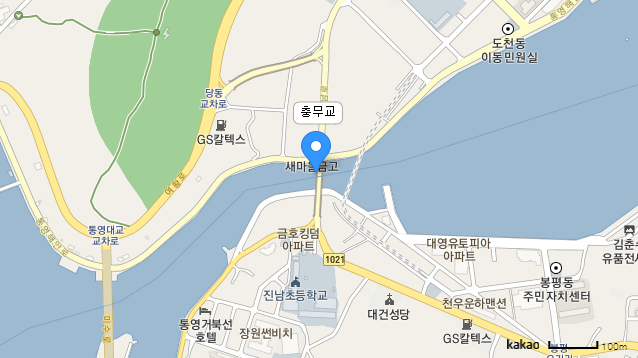 ---
Where to Stay in Tongyeong
Tongyeong has lots of great places to stay and many varieties of accommodation. Please use the search form below to see what's available.
*Disclaimer: This post contains affiliate links through booking.com and agoda.com, which means I may receive a small commission, at no cost to you, if you make a purchase through a link.
---
Hopefully through this article you have received some inspiration for future trips to Tongyeong. If you are looking for more things to do while in Tongyoung, check out our other article: 5 Amazing Things to Do In Tongyeong.
---